 Motivation and Resilience
If you're looking for someone exceptional on the topic of motivation and resilience, you just found her. Amberly's message is relatable, inspiring, and is driving results and changing lives around the world. Whether you're looking to motivate thousands in a stadium or a group of eight in a boardroom, she will not only inspire your audience to thrive, but will show them how to sustain peak performance.
With an extensive background in fitness and wellness, she is passionate about inspiring fitness enthusiasts or anyone who wants to feel better and have a healthy lifestyle. Amberly delivers an impactful message on well being and gives tools on how to maintain a healthy lifestyle even when things don't go as planned.
Her life experience and the proven strategies she's created to understand and maximize resilience resonate with companies whose core values include perseverance, grit, passion, and team building. And for audiences living with chronic pain (like her), she delivers a powerful message of hope and offer solutions at conferences, workshops, and clinics.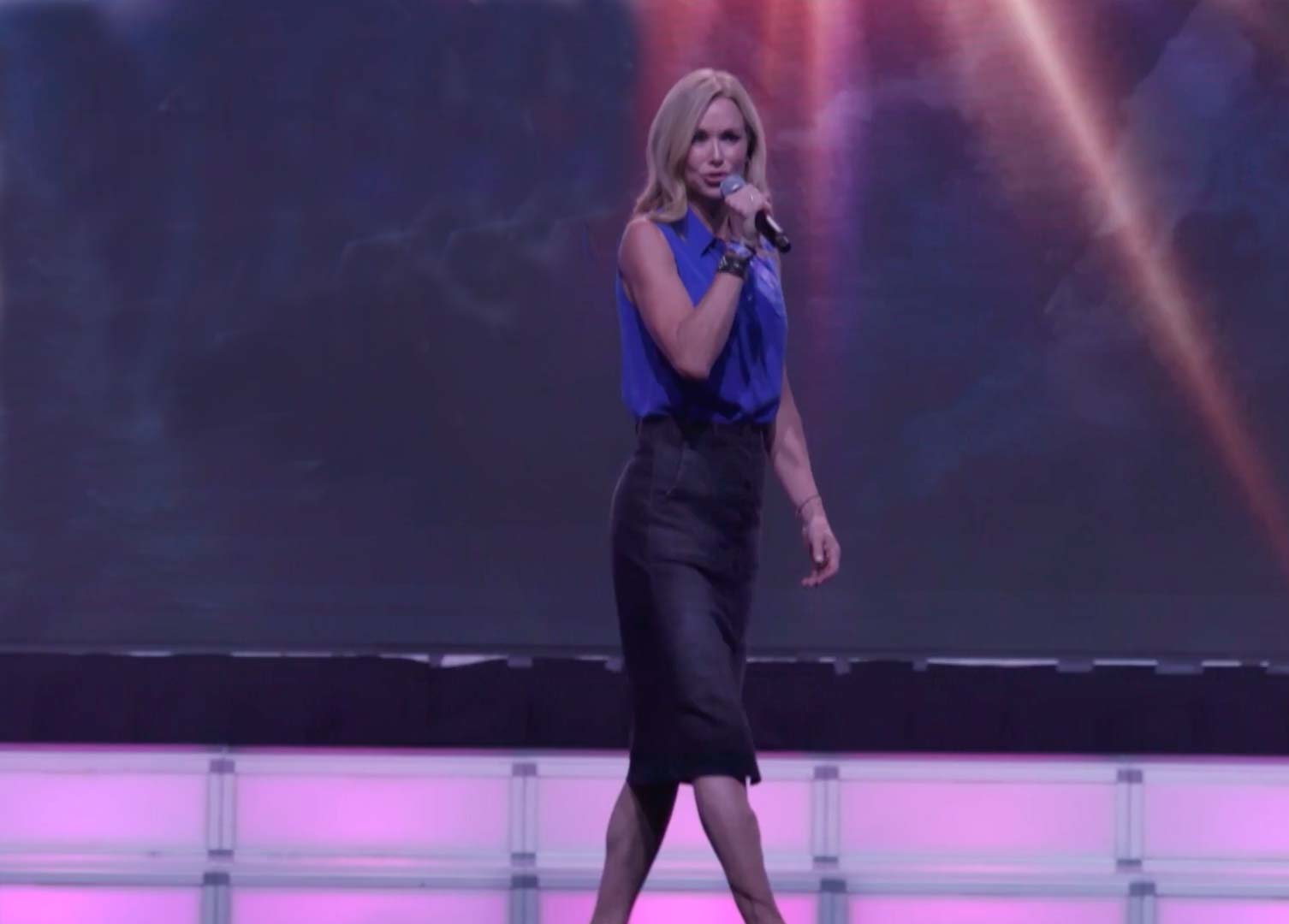 "Thank you Amberly for your story and inspiration"
Amberly Lago spoke to our Plexus Worldwide Ambassador Book Club after we read her book, "True Grit and Grace". We were all inspired and motivated by her resilience and bravery in her life. Amberly and her team were also very helpful and easy to work with in booking the event. Thank you Amberly for your story and inspiration. Everyone would benefit from hearing your story.
~ Christine Hobbi, Plexus Ambassador Sales and Training
"You were voted top speaker at our annual conference!"
-Jim Broatch, RSDSA
"Your talk was inspirational!"
What a beautiful testament to the triumph of your dedication, perseverance, personal resilience, and strong fortitude. It was such a pleasure to meet you today and I thank you for speaking to our group. Your talk was inspirational! Your speaking was wonderful. Your ability to weave humor into a very serious topic without minimizing the profound difficulty was beautiful. Your accent is a great bonus!
-Sarah Maria Dreisbach, Esq. SSSS Legal and Consulting Services
"There were tears and there was laughter."
A million thank you's! Thank you for bringing your story to Dress for Success. Thank you for giving the new members of the Professional Women's Group the opportunity to feel hope, pride, and determination. There were tears and there was laughter. I saw the beginnings of trust and camaraderie that will lead to a strong network of support as the group evolves. Thank you for setting precisely the right tone for our year-long program of workshops. Thank you for giving so much of yourself and so passionately supporting the mission of Dress for Success.
-Faye Taragon, Director, LA Dress for Success
"Touching and Authentic"
Amberly's talk made this the best Provisors meeting yet! I was moved to tears and definitely inspired.
-Dita Shemke, EMBA Shemke-Dixon Wealth Advisory Group
"Your presentation to our group was stirring."
You are an authentic hero, and it amazes me you can be humble in the light of your luminous accomplishments. I have received calls from other members of the group who wanted to discuss with me how they might change the way they live their lives in light of your message of focused endurance, belief in self, and the willingness to endure great pain and fight through incredible obstacles to achieve a life worth living. I cannot thank you enough. I am a big fan.
-Mike Altman, Simon, Altman & Kabaker
"What a compelling presentation at our meeting!"
Your story was so inspirational! You did a great job of balancing humor with a serious topic, making it both entertaining and thought-provoking. I found it compelling to hear your comments about the support you received from others and it gave our group confidence that we could support each other too. Thank you for all the work you do with disabled and special needs clients.
-Karen L. Gabler, Light Gabler
"You saved my life"
Being alone and not finding work, I had had enough. The thoughts came to my head to end my life but I heard your voice in my head saying…"Don't give up!" Your constant motivation and words of encouragement saved my life!
-T. Tyson
Amberly and The Pace of Pain, TEDxBerkeley